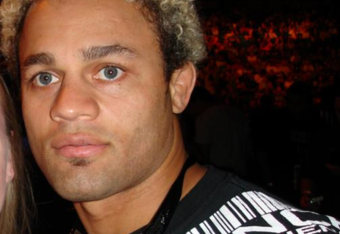 Confirmed by UFC President Dana White prior to the day prior to the pre-fight press conference and again explaining his reasoning at the conference, main event competitor Nate Diaz in the Lightweight division and co-main event competitor Johny Hendricks in the Welterweight division could each earn a shot at the titles in their own weight classes. White stated that the recent performances and current winning streaks of both fighters leading up to the event this Saturday have merited the possibility of becoming the #1 contender in each division. Though Diaz and Hendricks are now confirmed to be fighting each for a shot at the titles, opponents Jim Miller and Josh Koscheck are in no way guaranteed the same fate should they leave the octagon victorious come Saturday night.
For Diaz who rides a two fight win streak that includes a dominant Rnd1 Submission over former PrideFC Lightweight champion Takanori Gomi and a Unanimous Decision over former WEC interim champion Donald Cerrone, a victory over perennial contender Jim Miller is now guaranteed. Coming off of the two best performances in his career, Diaz immediately jumped up the ranks and into the spotlight with many fans demanding he either receive the shot at the title or a chance to earn it in a title eliminator bout. Showing his tremendous improvement in technique and discipline as well as a style that can pick apart opponents mentally, Diaz is for sure a legitimate contender.
Unfortunately for Jim Miller, he is once again looked past for his long awaited shot at the title. Going 8-1 in his last nine outings, with his overall record in the octagon being 10-2, Miller is clearly one of the best competitors in the Lightweight division and one of the most overlooked. After riding a seven fight win streak that went unnoticed for so long by UFC brass, Miller was finally given the opportunity to compete in a title eliminator bout against former WEC champion Benson Henderson, but was bested by his opponent and later alluded following the event that he found out he had been suffering from Mono. Bouncing back from the disappointing loss Miller endured powerful shots from knockout specialist Melvin Guillard till managing to get the fight to the ground where he earned the Rnd1 Submission finish. Even with an impressive 8-1 record in his last nine outings that includes five finishes, Miller will still need another victory or two so that he can finally get his shot at the title he has been chasing.
For Hendricks who rides a three fight win streak that includes a quick Rnd1 KO over submission ace TJ Waldburger, a Split Decision win over enduring competitor Mike Pierce, and earning the upset Rnd1 KO victory over perennial contender Jon Fitch in just 12 seconds with only two punches, a victory over longtime veteran and perennial contender Josh Koscheck could earn him his own title shot. A 4x NCAA1 All-American wrestler that has explosive one-punch knockout power, Hendricks has surged up the ranks into title contention. Hendricks' biggest claim to fame is when he knocked out 1x title challenger Jon Fitch in December 2011 where he beat the longtime contender in stunning fashion in a bout that most analysts saw as a for sure win for Fitch. Now with a chance to blow through the crowded pool of contenders Hendricks is seen not as a prospect, but now as a legitimate contender in the Welterweight division.
Though a longtime standout in the division and known as a "company man" always willing to step up for a fight at anytime, Josh Koscheck does not find himself in the same situation for this bout as his opponent. Though still ranked among the contenders in the division, Koscheck's two losses to champion Georges St. Pierre are what prevents and talk of him potentially fighting for the title. In a sport where the classic "best two out of three" standard applies, Koscheck is 0-2 against St. Pierre and was beaten decisively in bout bouts. Following his most recent loss which was to St. Pierre for the title, Koscheck even looked to return to the Middleweight division. Now coming off two straight victories and reassessing his position in the weight class, Koscheck looks to test himself against the new crop of athletic and well rounded new contenders breaking into the top ten rankings. With a new generation of fighters rising fast and some meriting the hype as being capable of dethroning St. Pierre, Koscheck once again fighting for the title. Until St. Pierre loses or vacates the title, Koscheck will likely find himself in this same situation for future match-ups.
Written by @MMAFanHQ